The SSP(Student Success Program)supports students by fostering each individual student's learning autonomy in both classes and extracurricular activities in order for them to grow to their full potential as students. With the SSP Coordinators at its core, the SSP implements initiatives towards the enrichment of students' lives.
What Can I Achieve Through the Student Success Program (SSP)?
You can learn the skills you need for college!

You can find out about yourself and will be able to design a learning style that works for you!

You will be able to set your own goals and take action to achieve them!
News & Twitter
Visit our Japanese-language homepage for the latest news and tweets (info on support in Japanese is provided in Japanese, and info on support in English is provided in English).
What Kind of Support Does the SSP Provide?
We offer a variety of support that includes support tools, seminars and on-demand videos to help you in your university studies, SSP peer supporters' college tips, and individual consultations. For details, take a look at the "What SSP Offers" page!
What SSP Offers
What is the Student Success Program (SSP)?
SSP Student Missions
- What SSP Aims to Achieve Together
With Students -
The Student Success Program (SSP) aims to help students develop as independent learners by cultivating the following skills through proactive participation in support programs offered by the SSP.
The ability to understand one's own traits and situation from multiple perspectives
The ability to design (i.e., create, plan, and select) one's own learning style in order to achieve one's own goals
The ability to put plans into action while asking others for cooperation and support
The ability to reflect on one's own actions, adjust and modify them according to the situation, and apply that experience the next time
The SSP Cycle for growing as a self-directed learner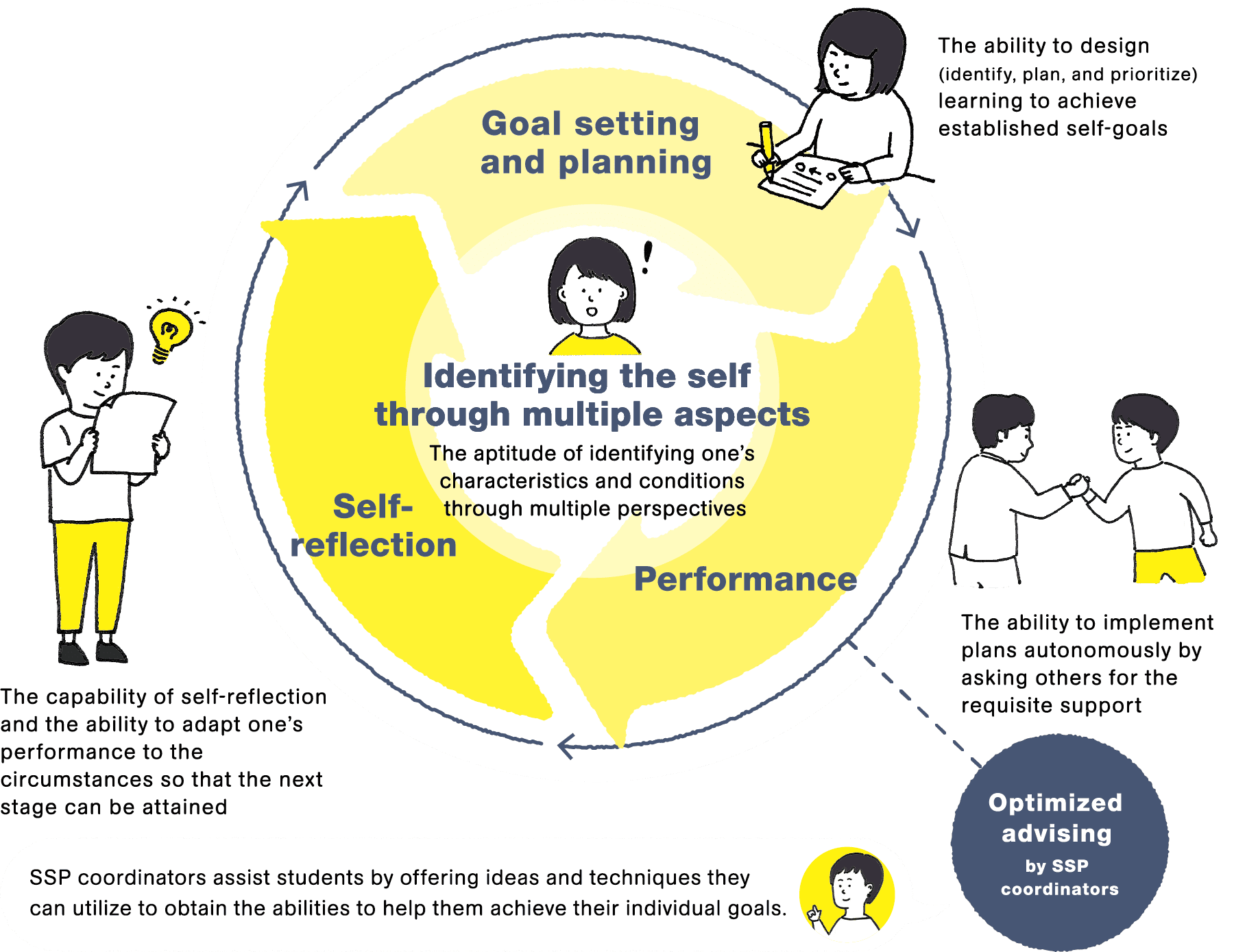 Various Forms of Support To Suit Students' Needs and Goals
The SSP has developed a variety of support services so that our diverse RU students can choose the support that best suits their needs and goals. Specifically, SSP support consists of
distribution of support tools on the website, at the counter of the Office of Student Affairs, in the Campus Diary (Ritsumeikan University Student Planner), etc.,
group support through face-to-face and online seminars
small group support with senior students and peers (SSP peer supporters), and
individual support through assessment and individual consultations with SSP coordinators.
SSP Program Contents
The SSP is designed to help students cultivate the following skills in order to help them become "self-directed learners" and grow to their full potential as students.
Self-awareness to understand one's own strengths and weaknesses
Self-management skills such as schedule management and task management
Self-determination skills to prioritize and make choices
Support Tools (To Assist With University Studies)
The SSP has developed its own educational materials to enhance monitoring and metacognitive skills that are essential for self-directed learning. They are designed to help students "visualize" their own situation so that they can reexamine it at any time, thus allowing them to deepen their self-understanding through understanding their current situation. Support tools are available on our website, at the Office of Student Affairs, and in the Campus Diary (Ritsumeikan University Student Planner).
Support Tools
Assessment
Using a "check sheet," we assess students' learning motivation and study style as an opportunity to encourage them to gain self-awareness and self-understanding early on. Through assessment, we can identify students' individual traits and encourage them to proactively receive support by providing feedback on the results. This helps students deepen their self-understanding and self-awareness. Further, we can provide support suited to students' characteristics based on the assessment results.
One-on-One Support
SSP Coordinators meet with students one-on-one and help them create a study schedule and set study goals. The Coordinator will then meet with each student periodically to discuss the study schedule/goals and continue to provide support for reaching those goals. Support in English is also available if you make a reservation in advance.
Group Support
SSP provides lecture-type group seminars on topics such as creating study plans, time management and final exam strategies. These seminars aim to help students gain the basic skills required to be self-directed learners while they receive advice from the SSP Coordinators and SSP Peer Supporters.
Peer Support
At the SSP, Peer Supporters support students who want to lead fulfilling student lives by helping them prepare worksheets (e.g., Time Management Sheet, Academic Study Plan Sheet, etc.) and facilitating group work in SSP-sponsored seminars. The SSP peer supporters also hold regular consultation meetings to provide students with opportunities to interact with each other and share tips on university life. In addition, SSP Peer Supporters themselves come up with a number of projects that meet the needs of students. Please check the News page for info on the latest projects. You can also see support content created by the past peer supporters on the "Student Learning Ideas and Tips" page.