Hello, everyone.

The fall semester grades were released on March 3rd; how were they?

You may feel like,

"This semester went quite well."

"
I lost my motivation in the middle of the semester, what went wrong? "

"
I didn't have a good plan to finish the semester successfully, I don't want to make the same mistake again..."

Whether you did well this semester or felt you failed somehow, why don't you join us to make an action plan for next semester?

SSP will hold a live online seminar, "Getting Ready for the New Semester - Scheduling and Motivation Tips"
(*in English only)

- on March 23rd.

In this seminar, you'll learn how to set your goal and maintain motivation during the semester. You will also hear other students' learning tips and strategies to get through the semester.

No registration is required, so feel free to join us!

■
Online Live Seminar

Getting Ready for the New Semester- Scheduling and Motivation Tips

■
Date & Time
Thursday, March 23rd, 5p.m.~6p.m.

■
Format

Webinar
 (*
Click
here
for the webinar URL
)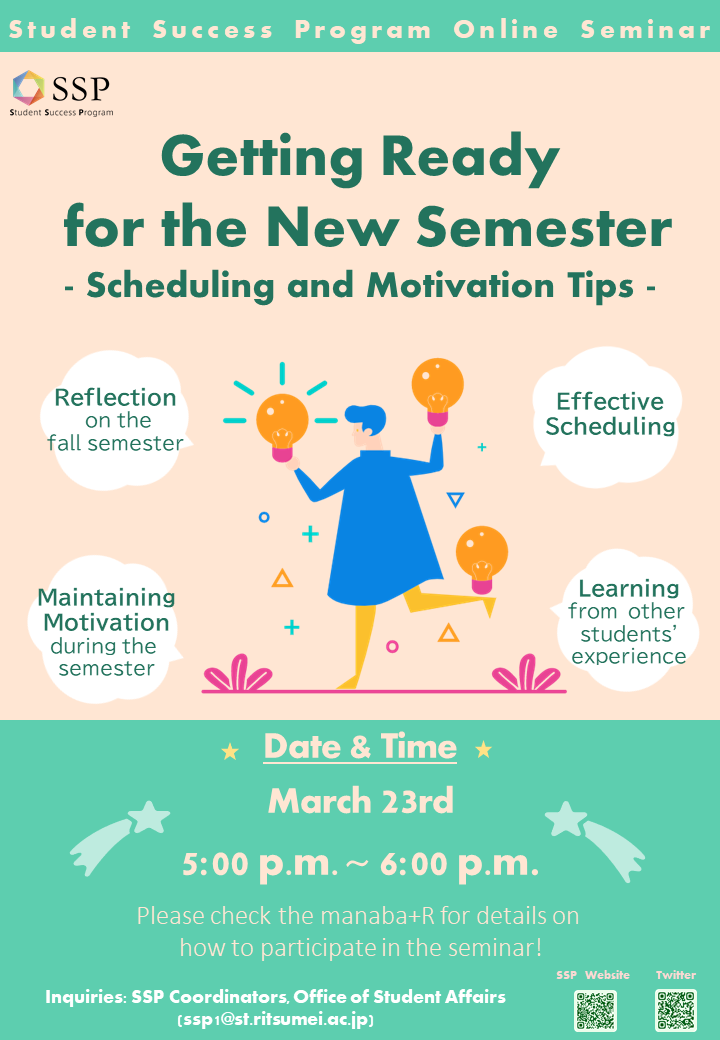 On-Demand Seminars

SSP has also prepared various on-demand seminars to help students learn tips to manage their studies better.

Both live and on-demand seminars are available, so try finding the way to utilize them that best suits you!

Below is a list of videos to help you quickly learn task management, scheduling, and maintaining motivation.

https://secure.ritsumei.ac.jp/students/ssp/english/support.html/