I

nternational

R

elations Major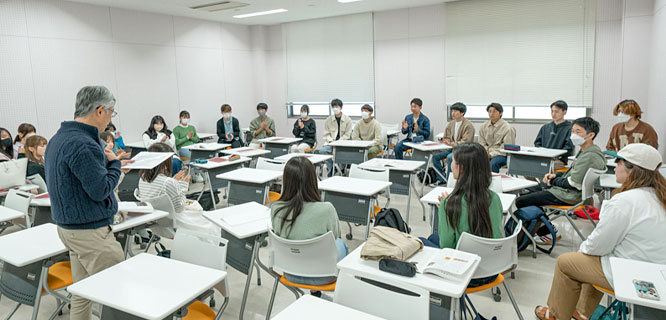 Graduation requirements and courses
Studying International Relations
In their first year, students learn the fundamental knowledge and skills for studying international relations by taking 基礎演習 I and II, 国際関係学 A and B, courses in the elemental subject areas, and courses in the core subject areas. From the second year, students will specialize in a subject of their interest chosen at the end of their first year from one of the following four programes. Students will be able to take specialized courses in other programes as well.
International Order & Peace Program The International Peace & Order Program studies the comprehensive history of international order, its present state, and the prospects for the new era in international politics, international relations, international law, and international economics. Students will explore new ways of resolving a wide range of issues, from war, peace and human rights to conflict and economic friction.
International Cultural Understanding Program In today's increasingly globalised world, it is crucial to respect diverse cultures and values and to foster a symbiotic society. We compare and contrast various cultures and societies and explore methods of living together in a multicultural society.
International Cooperation & Development Program Students explore solutions to issues such as international social and economic development and the problems of disparity between rich and poor, including the current situation in developing countries, international cooperation and aid. We focus on these cases from multiple points of view as the international cooperation of governments, international organisations, company activities
International Administration Program Students aiming for careers in public administration such as diplomats and other national public officials, UN officials, and local public officials sustaining local communities, engage in a friendly competition to learn the practical and theoretical aspects of global public policy and domestic and international public administration.
Regional Studies
In addition to theory, the College of International Relations places great importance on studying world regions. Students take Regional studies courses to deepen their knowledge of the history and culture of districts of their interest from their second year.
Group Studies
Students take small-group courses from their first year through to their fourth year. They acquire academic skills through discussing and presenting in small classes, gradually developing the ability to organize their graduation research. At the end of the second year, students select a seminar (a class of specialized exercises) to which they will belong for two years. In the third and fourth years, students research a topic of their interest under the guidance of their seminar supervisor, culminating in a graduation research project in the final semester of the fourth year.
Foreign Language Studies
English is a compulsory two-year course for all first and second-year students. Students are placed in classes according to their English ability and set targets to meet their level of proficiency. Students progressively improve their English language skills in preparation for specific courses offered in English and for study abroad. If you wish, you can also take an intensive course (Intensive English I - VI) to improve your TOEFL® or IELTS score.
Upon Admission, all first-year students select a primary Foreign Language course from French, German, Spanish, Chinese and Korean (Japanese available for foreign students only).
There are intermediate and advanced Foreign Language Studies for students wishing to continue beyond their second grade (Advanced, Minor subjects (Foreign Communications) Specialised foreign languages, etc)
Study Abroad
While studying abroad is optional, 30-40% of students from International Relations participate in long-term study abroad programs of six months to a year. Before or after studying abroad, students can maintain and improve their English by taking specialized courses offered in English. For more information, please visit the International Education Center's Study Abroad Program website.
Centre for International Education Study Abroad Programme HP